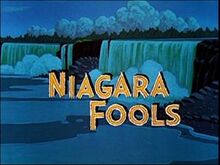 Niagara Fools is the 71st animated cartoon short subject in the Woody Woodpecker series. Released theatrically on October 22, 1956, the film was produced by Walter Lantz Productions and distributed by Universal International.
The park ranger at Niagara Falls boasts about his impeccable record of enforcing the prohibition related to going over the falls in a barrel. Woody is in the crowd and instantly decides to attempt it. The ranger tries endlessly to prevent Woody from succeeding, but ends up in a barrel going over the falls himself each and every time, much to the delight of onlooking tourists, who cheer loudly. Eventually, the ranger takes his district with him. The end result has the entire crew going over the falls in barrels. The crew tries to trap Woody by mailing him to the North Pole, but they succeed in sending their superior to the North Pole. He travels 10,000 miles (all the while, Woody is humming the Blue Danube waltz, and the ranger alternately saying "Mush!") back to Niagara Falls. Finally, after another fight with Woody over being in a barrel, with the inevitable result, Woody joins the ranger, dressed up as a police officer, and gives him a ticket for going down the falls in a barrel.
Reception
Edit
Niagara Fools became a massive hit in Brazil thirty years after its release, in 1986 and is still popular in the country today.
Other media
Edit
In 2008, a mobile game based on the animated short film of same name titled Woody Woodpecker In Waterfools, when Woody Woodpecker was playable a fall barrels.
The short film can be seen as a post-credits segment in the 2017 live-action/animated hybrid Woody Woodpecker feature.