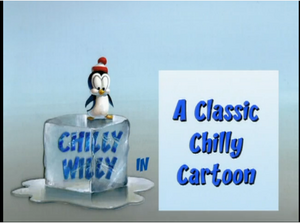 The Legend of Rockabye Point 
is a Chilly Willy cartoon, released on April 11th, 1955. 
An old sailor tells the legend of a starving polar bear named Maxie who attempted to steal food but kept running into a vicious guard dog. To placate the beast, the bear must sing "Rock-A-Bye Baby" to him to make him nod off which served as running gag. Unfortunately the dog wakes quickly at the slightest noise, and is cranky. The dog eventually chases the bear up a tall mountain. At the end of the picture the sailor says if you listen carefully you can to this day still hear the lullaby at night. Indeed, at the peak the pair stand—both very old and grey— with the bear holding the dog tenderly and singing "Rock-A-Bye Baby".
It was nominated for an Academy Award, but lost to Speedy Gonzales.
The bear has appeared in other Lantz pictures with Chilly and Maxie.
Though billed as "A Chilly Willy Cartoon", the perpetually-cold penguin is only briefly seen.
The cartoon was first shown on The Woody Woodpecker Show and later on The New Woody Woodpecker Show, where it was digitally remastered and renamed "A Classic Chilly Cartoon".
Polar bears and penguins never share habitats in the wild, so this cartoon has a faulty premise. Polar Bears live in the North Pole while Penguins inhabit the South Pole.
.