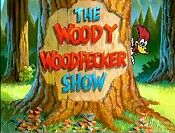 The New Woody Woodpecker Show is an animated television series based on the original cartoon by Walter Lantz, produced by Universal Animation Studios, Universal Television, and distributed by NBCUniversal Television Distribution.
The series aired from 1999 until 2002. It is an updated version of The Woody Woodpecker Show with characters from the classic series and a few new ones appearing in their own segments. The series had 3 seasons and 53 episodes, featuring 157 segments as a total.
The soundtracks of the same name, they were a special features from various artists with: Jim Cummings, Sting, Jim Diamond, Gloria Estefan, Cher and many more.
Woody Woodpecker characters
[
edit
|
edit source
]
Elf (Voiced by Tom Kenny)
Badger (Voiced by Mark Hamill)
The Mole (Voiced by Maurice LaMarche 1st Voice and Kevin Michael Richardson 2nd Voice)
List of The New Woody Woodpecker Show episodes
[
edit
|
edit source
]
The episodes from The New Woody Woodpecker Show
Jim Cummings - Dapper Denver Dooley, Captain Redwood, Carl Castaway
E.G. Daily - Knothead
Nika Futterman - Splinter
Mark Hamill - Buzz Buzzard, Tweaky da Lackey, Badger
Andrea Martin - Ms. Meany
B.J. Ward - Winnie Woodpecker, Mother Nature
Billy West - Woody Woodpecker, Wally Walrus, Smedley, Dr. Doug Nutts [edit] Additional Voices
Pamela Adlon - Lester the Termite
Carlos Alazraqui - Doctor Von Kook
Bono -
Dee Bradley Baker - Nicky Woodpecker, Mr. Hippopotamus
Jeff Bennett - Gabby Gator, Sarge Hogwash (2000-2002), General
Julie Brown -
Corey Burton - Woody Woodpecker's Dad, Toad
Jane Carr - Gopher Mom
Dan Castellaneta - Chester the Cockroach
Diane A. Crea -
Grey DeLisle - Nutwinck
Pat Fraley -
Jennifer Hale - Hinga
Jess Harnell -
Ellen Idleson -
Peter Jason -
Tom Kane - Santa Claus
Tom Kenny - Elf
Joe Lala -
Maurice LaMarche - Conductor Pig
Tress MacNeille -
Rob Paulsen - Willy Walrus, Gunther, Woodrow Woodpecker, Rutty the Gopher, Piff Puff, Pibbley
Kevin Michael Richardson - The Mole (2nd Voice)
Brogan Roche -
Eugene Roche - Tara Strong - Little Girl
Charles Martin Smith -
Cree Summer
Bob Jacques - Voice Director
Ginny McSwain - Voice Director
In UK was released the DVD "The New Woody Woodpecker Show Season 1 UK DVD" and in US the DVD "The New Woody Woodpecker Show Season 1 US DVD" from these series. Few DVDs were released in Canda, previously on VHS. Some 130 episodes from Season 1 can now be viewed on Xfinity & Netflix As of May 24th, 2010, Lyrick Studios & Hit Home Entertainment spite of this, has yet to announce any current plans to release the show on The Garibelpika in French
Community content is available under
CC-BY-SA
unless otherwise noted.